This post is a joint effort of a German half doll collector and an avid German collector of Dressel & Kister figurines/half dolls, who kindly provided me with old documents, information and photos. Parts of the story on the history of the Dressel & Kister factory are taken from the book THE HALF-DOLL Vol. 2 by Shona & Marc Lorrin, who kindly granted permission to take photos from their books and revised my translation. Thanks so much for your help!
THE HISTORY OF THE DRESSEL & KISTER PORCELAIN FACTORY :
In 1853, Johann Friedrich Andreas Kister, a Mr. Dressel and one other associate purchased a factory of apparent little consequence in Passau/Bavaria. They named this factory DRESSEL, KISTER & CIE.
Nine years before, in 1844, Mr. Dressel and Mr. Kister had already acquired a porcelain factory in Scheibe-Alsbach/Thuringia and helped this factory to a remarkable economic boom. In 1863 August Wilhelm Fridolin Kister (A.W.Fr. Kister), the son of Johann Friedrich Andreas Kister, became proprietor of the Scheibe-Alsbach factory.
Johann Friedrich Andreas Kister is said to have purchased the factory in Passau/Bavaria for his daughter Therese, whose husband Jacob Stark, a business partner to her father, passed away the following year. Therese remarried in 1856 to Wilhelm Lenck, son a porcelain painter from Thuringia, who was an expert in the manufacture of porcelain.

The Passau factory became a family-owned enterprise under the leadership of Wilhelm Lenck. He succeeded in helping the factory to obtain world fame. Dressel & Kister Cie. exported their porcelain all over the world with France and Italy as the largest buyers in the early years. When his son Rudolf took over the firm already employed 300 workers. In the following years it became the largest commercial enterprise in that city and the Lenck family was one of the wealthiest families in Passau. Porcelain from the Lenck factory was shipped all over the world and awarded with numerous prizes. The factory committed a designer from Italy, Fillipo Cifariello. He came from Capodimonte/Naples and received a princely salary. Considered a great artist, he created lively and elegant figurines. However, the hot-blooded South Italian was also accused in 1907 in Rome/Italy of having killed his French wife.
Rudolf Lenck had shortly before died at the age of 44 years. His widow Lina Lenck took over and was able to increase the sales despite the chaos of war. She sold the manufactory in 1919 to the Aelteste Volkstedter porcelain factory AG (=stock corporation). The factory now operated under the name AELTESTE VOLKSTEDTER PORZELLANFABRIK AG, branch ROSENAU near PASSAU, former DRESSEL, KISTER & CIE., and even established a department "Passauer Porzellankunst" (Artistic Porcelain of Passau) with renowned designers like Ernst Derra (he is said to have created the medieval figurines in c. 1907), Fritz Schlesinger and Erich Böhm. Technical director and art director from 1920 onwards was Carl Graser from Volkstedt.

Even more damaging than the war was the economic situation of the 1920s and 1930s (worldwide economic crisis), when luxury and artistically figurines of the kind made by the company were not in demand. Furthermore the nearby china clay deposits were exhausted caused by overexploitation. The factory went bankrupt in 1936 and was acquired by the City of Passau. In three little rooms ten workers tried to keep up the business. Fallen into obscurity the factory finally ceased to exist in 1952.

----------------------------------------------------------------------------------------------------------
This photo shows the above mentioned Mrs. Lina Lenck,
owner of Dressel & Kister Cie. and Italian sculptor Mr. Fillipo Cifariello
Photo is courtesy of M.K.
----------------------------------------------------------------------------------------------------------------
AND SOME OF THEIR HALF DOLLS :
Today a large number of the half dolls by Dressel & Kister are the most coveted half dolls by collectors and command the highest prices, due to their elegance, extravagance and of course, their rarity. The Dressel & Kister series of very scarce medieval half doll and figurines and their Art Deco half dolls will be introduced in forthcoming posts.
A lady feeding doves -
I named her CINDERELLA, based on the German fairytale by Gebr. (Bros.) Grimm.
This extraordinary doll measures 17 cm (6-5/8") in height
Marked with the bishop`s crozier, one of the brandmarks used by Dressel & Kister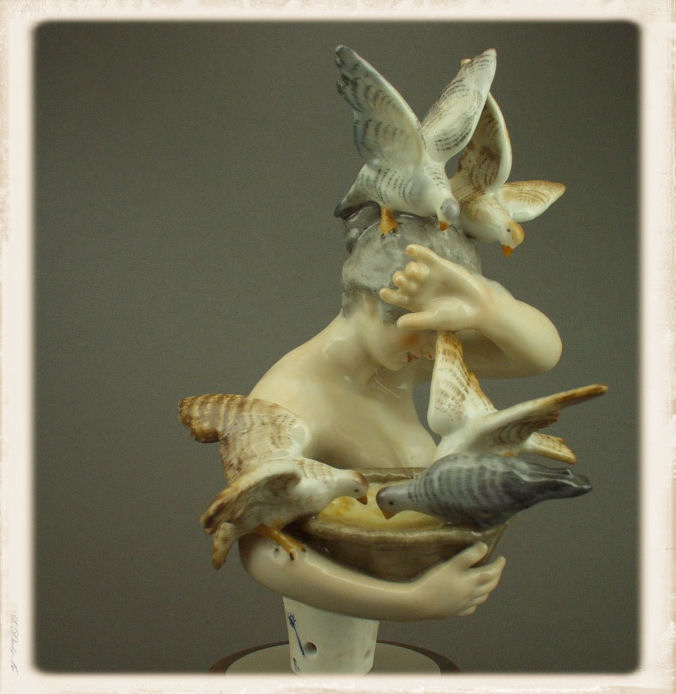 This young beauty
is braiding her hair
Height is : 13 cm (5-1/8")
Photo is courtesy of M.K.
A lady with a flamboyant hat adorned with feathers
The doll measures an impressive height of estimated
20 cm (7.9")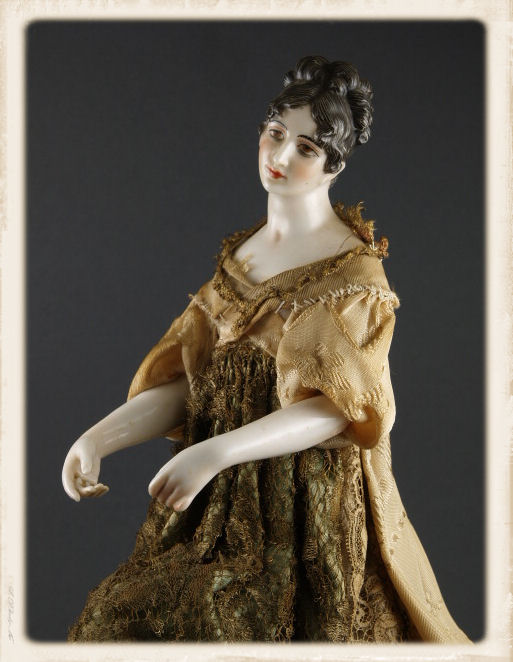 This lady actually represents
Madame Récamière
A pre-owner made a harp player
from this half doll
Height of doll
is approx. 16 cm (6-1/4")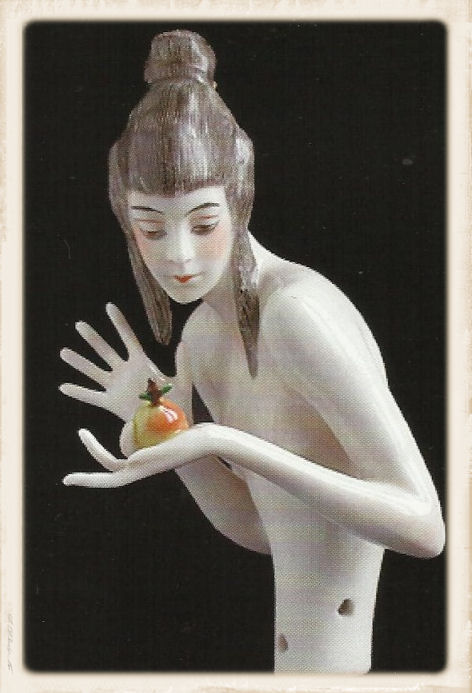 This photo and the following ones are taken from the book
"THE HALF-DOLL with related items, makers and values", Vol. 2, written and published by Shona & Marc Lorrin
ADAM must have been taken from the beauty of this
EVE with an apple,
this paradisiacal lady measures 14 cm (5-1/2") in height
Photo is courtesy of Shona & Marc Lorrin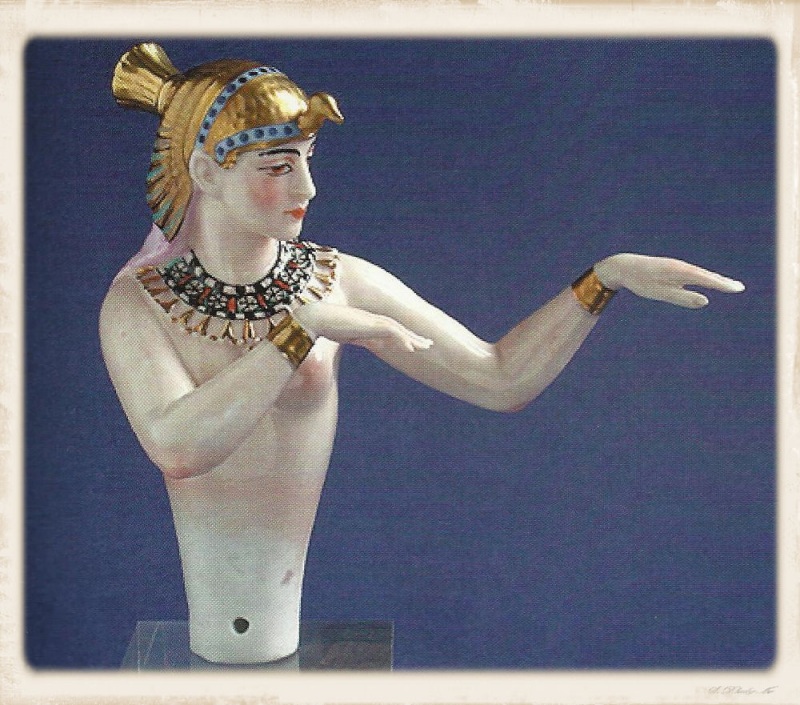 A most beautifully
Egyptian half doll,
referred to as
"CLEOPATRA",
height is 11.4 cm (4-1/2")
Photo is courtesy of Shona & Marc Lorrin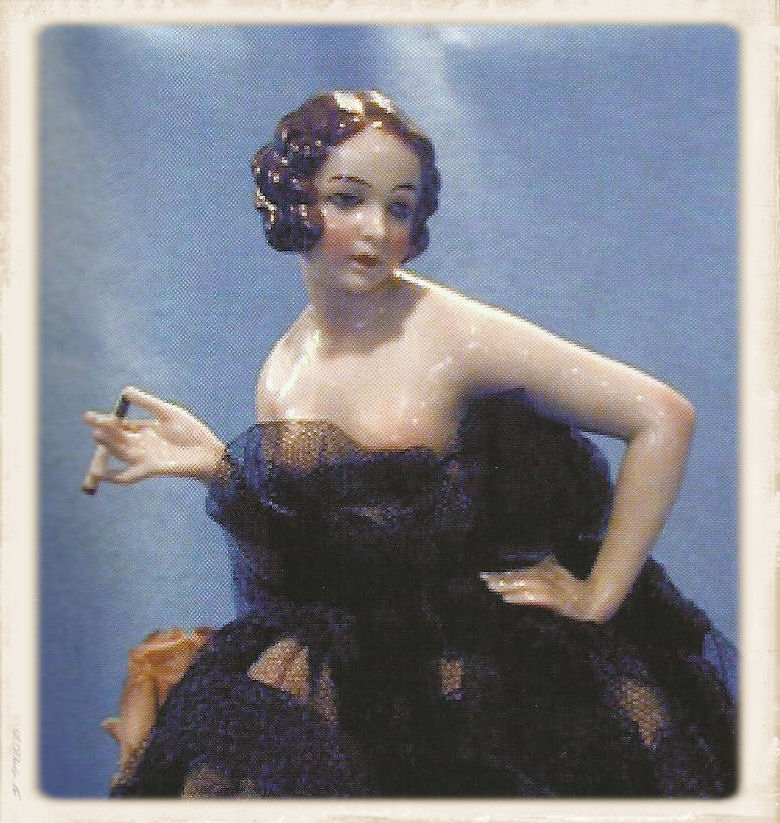 An extraordinary half doll of a smoking young "doll woman"
of the 20s/30s
(she is one of my favourites)
size of the doll is:
12.6 cm (5")
Photo is courtesy of Shona & Marc Lorrin
And finally two (resp. three) ultimate highest quality half dolls made by Dressel & Kister
showing the great skills of the D&K modelers, porcelain painters, and workers.
In these times the kilns were fired with wood and to keep the temperature for hours
in order to get perfect and undamaged figurines was a laborious job.
Photo is courtesy of Shona & Marc Lorrin