Half dolls depicting old or elderly ladies are very scarce. There are only a few "old half doll ladies" known to me. I would like to show you two of these old women. Both are simply lovable grandmothers (or in German saying "Großmutter or Oma"). Both are wearing a headscarf. Wearing a headscarf was a common thing in Europe, particularly in the rural areas. It was conform to fashion and the prevailing social conventions and it was favored by the elderly ladies. A headscarf in black, colored, often with magnificent embroidery, was part of the traditional national costumes.
Old age is not a disease - it is strength and survivorship, triumph over all kinds of vicissitudes and disappointments, trials and illnesses (Maggie Kuhn).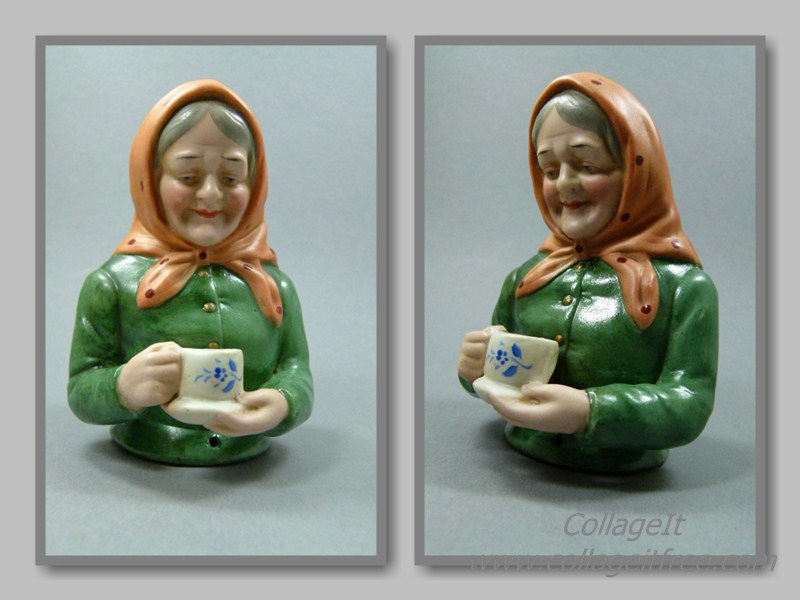 This charming grey-haired lady enjoys a cup of tea or coffee. The doll is made in bisque by Bruno Schmidt of Waltershausen. She holds a cup and a saucer. The old lady is nicely modeled with wrinkles and dimples and a smile in her face. The green dress is glazed, other parts are left unglazed. Her hands are not fine and delicate but formed by a hard and busy life. She is marked with incised number 3382. Height is 12 cm (4.75").
The old woman with folded hands is made by
Galluba & Hofmann
of Ilmenau / Thuringia. She is made in bisque and painted in shades of brown The painting looks blurred and washed out, possibly to create the appearance of carved ivory. The doll is marked with incised 9?19 and is 8.5 cm (3-1/3") tall.