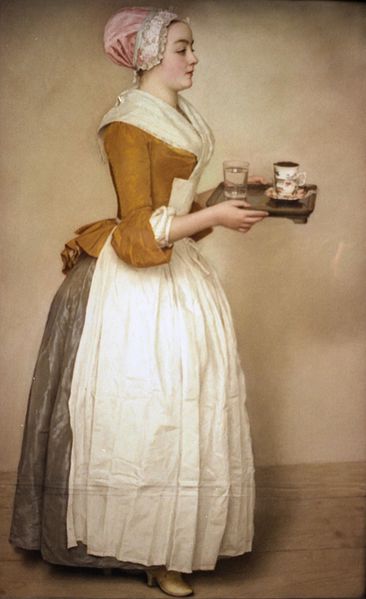 In 1744 Jean-Etienne Liotard, a Swiss-French painter, who went to Vienna to paint portraits of the Imperial family, had painted a portrait of a young lady in the dress of a German chamber maid carrying a tray on which is a glass of water and a cup of chocolate. Count Algarotti, an art connoisseur bought this painting on behalf of Augustus of Saxony, the King of Poland, who hung it in the Dresden Gallery. It has remained there ever since. Henry Pierce, the fifth owner of Walter Baker`s Chocolate, saw the original pastel painting during a European trip in the late 1870s. He was so taken with the image of a beautiful young woman serving chocolate and arranged to have a large-scale replica painted for display at the Baker's offices. The trademark logo of La Belle Chocolatiere was adopted by Baker's Chocolate in 1883 along with a romantic story of Anna Baldauf, a young Viennese woman. The story claims that Prince Dietrichstein entered a chocolate shop on a cold day and noticed her beauty. Anna may or may not have earned her living as chocolate maiden. They fell in love and soon married, despite their different social classes. Liotard was traveling through the city drawing portraits of Austrian royalty when Dietrichstein asked him to capture Anna`s likeness as a wedding gift.
This story associated with the painting is almost certainly not accurate, but who cares. The story of a beautiful poor girl and a prince was always an exciting base for a fairytale.
The Dresden Gallery provides details suggesting the existence of two women by the name of Anna Baldauf, living fifty years apart. A guidebook for the Dresden Royal Portrait Collection states, "She was born around 1730 in Vienna, was named Anna Baldauf, and was famous as the "beautiful nursemaid." But she is not to be confused with the Viennese Anna Baldauf who was married to Prince Johann von Dietrichstein on July 23, 1802."
Liotard's painting did not only inspire Mr. Pierce from Baker's Chocolate. It inspired several German porcelain manufacturers to create half dolls bearing the likeness to the lady in the painting. These lovely half dolls are amongst the most coveted by collectors.
This half doll was made by Dressel & Kister of Passau/Bavaria about 1910-20. It's a very good rendition of LA BELLE CHOCOLATIERE. Her tray has feet on the underside similar to those in the painting. On her tray is a glass of water and a chocolate cup. She is marked inside the base with the blue painted Dressel & Kister mark, the bishop`s crozier and measures 13 cm in height.
Gebrueder Heubach of Lichte in Thuringia, well-known for their excellent piano babies and bisque figurines, produced this lovely lady. Her dress is similar to that in the
painting and she carries a tray with a chocolate pot and a water glass. She can be found in an old Heubach catalog and is marked with an incised 10442 II. This doll measures 12 cm, but was also
made in 17.9 cm (7").
This chocolate server was made by A.W. Fr. Kister of Scheibe-Alsbach in Thuringia. Her modeling closely resembles that in the painting. She carries a tray with a chocolate cup and a water glass. Marked under the tray with an incised D326, height is 11 cm (4-3/8").
These three serving sisters are made by Galluba & Hofmann, who was located in Ilmenau / Thuringia. The ladies on the left and right side in the photo are not as rare as their sister in the middle who wears a winged Dutch cap, but all of them are done in very good quality. The tray of the doll in the middle is embellished with an additional chocolate pot or coffee pot and a little milk jug instead of the water glass. Her sisters are holding trays with a cup and a water glass. They are marked with an incised 9198, 3867 and 9190. Size is about 13 cm.